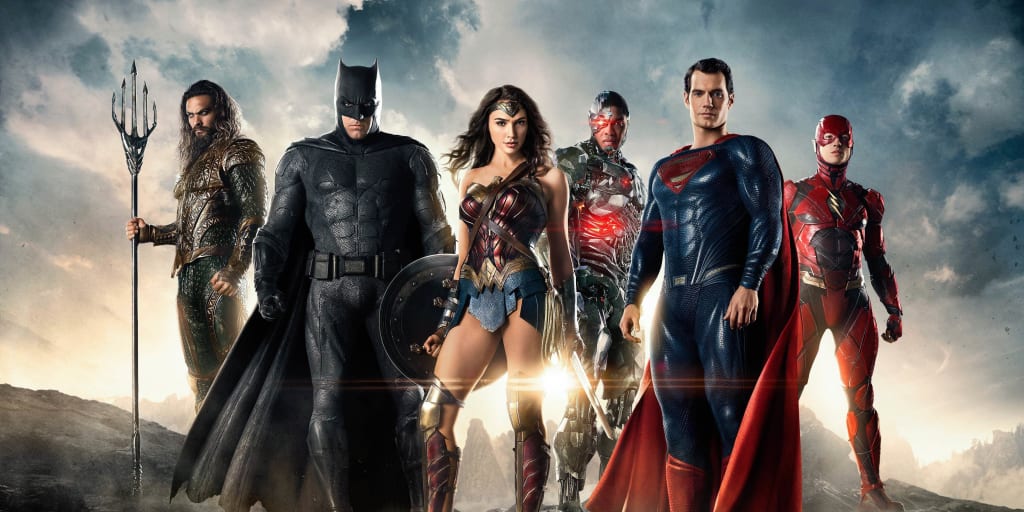 Ah, the DC Extended Universe. It's a bastard child of a franchise that, ever since Batman V Superman, has been running away from itself while being pushed around by a rotating team of executives in every different direction. It wanted to be the answer to Marvel, but there never seemed to be a terribly strong voice at the executive level, like a Kevin Feige, to operate as a guiding hand. I suppose Zack Snyder had too much early control, determining the first steps of the franchise entirely on his own (in movies that I admire, by the way) while the franchise as a whole ended up feeling like an afterthought.
Seriously, whose idea was it to make Suicide Squad the third movie in this franchise? Never mind the movie's flaws, why would a team up movie about a group of villains, none of whom had been seen before in this iteration of the franchise and only one of whom had any real cultural weight (and even then, Harley Quinn was never exactly a household name) be the third movie in this franchise? I know Wonder Woman was just down the pipe, but that should have been third. Fourth should have been maybe a stand alone Batman, but no, the third was freaking Suicide Squad.
So dumb.
The franchise never really recovered. Wonder Woman has its fans, but I'm not really one of them. Justice League is a clusterfart of legendary status. And then they started just handing movies off to some of the most inappropriate talent. James Wan for Aquaman? Really? Cathy Yan for Birds of Prey? Seriously? Even Shazam! brought on David F. Sandberg, a horror filmmaker, for what essentially amounted to a children's movie (that works reasonably well, by the way). The franchise seemed to have veered from over-controlled blind hands at the executive level to a complete hands-off approach.
Dear Lord, I do hope things go back on track for Wonder Woman 1984. (12/29/2020: No, it most certainly did not.)
Oh, well, here's the definitive ranking of the DCEU as it stands today. (12/29/2020: Now with Wonder Woman 1984. 3/19/21: Now with Zack Snyder's Justice League.)
10. Birds of Prey and the Fantabulous Emancipation of One Harley Quinn
"This movie was poorly written, poorly shot, and poorly edited. It has the ambition of an aggrieved Tumblr account."
"This is one of the worst superhero movies ever made. And, I repeat an alternate cut would only fix so much of it. This movie is a disaster that Warner Brothers just made worse."
"This movie is awful. It's truly terrible. A tighter cut would have made the first hour much shorter and less boring, but it would have done nothing for the sheer stupidity that dominates the last ninety minutes."
7. Aquaman
"I really did not like this movie. It's thin with little focus and an almost complete inability to tell a story. I imagine it's not going to age particularly well for those who were blown away by it on their first viewing.
6. Wonder Woman
"I don't hate the movie as a whole, for sure. It's lightly entertaining for long stretches. Gal Gadot and Chris Pine develop really good chemistry to the point where Steve's goodbye to Diana ends up feeling quite genuine and affecting. It often looks very good, embracing speed ramping and slow motion far more than Zack Snyder ever did for his Superman movies despite having popularized the technique in 300. What this movie is not is particularly intelligent thematically, nor does it know how to create and effectively use any antagonists (its best, Doctor Poison, gets sidelined for most of the runtime). I sort of understand the affection people have for it, but I definitely don't share it."
"Still, the movie has its charms. Its second half works pretty basically after the flagging first half. It looks good, and there are winning performances all around. It's mildly entertaining, but nothing exactly special."
4. Shazam!
"In the end, though, the movie's an unchallenging little superhero movie that aims primarily towards children. It's amusing and cleanly told. For some that will be a more than welcome change to the franchise that they've considered to be off the rails from the beginning. For me, it's nice, but I look back at the cinematic ambition of the first two DCEU films and sigh, happy to have something better than okay but much less than the aims of where the franchise started."
3. Man of Steel
"I love the ambition of the film. It's desire to reach beyond mere spectacle and enter into something of mythic scale is quite well handled. I also like Superman's challenge in finding how to make himself known to the world, and it ultimately comes out of necessity and to make up for his own contribution to the violence being visited upon Earth. It's rough, though."
2. Zack Snyder's Justice League
"It's good."
1. Batman V Superman: Dawn of Justice
"All in all, though, the Ultimate Cut of Batman V Superman: Dawn of Justice is a ride through a complex plot with some interesting stuff on its mind at the same time. There's great spectacle along the way as well. It could have used more time as a script to hammer some stuff out and clear some stuff up, but as it is, I find it an entertaining three hours."