A big thanks to Mark Andrew Edwards for recommending that I go through Howard Hawks' filmography. This was a great ride.
Hawks was never a director I had given much thought to before. I owned a handful of his films already, but I'd never considered his body of work as whole or Hawks' place in the larger world of cinema. What I found was a surprisingly subtle hand, never visually audacious but always confident, guiding a wide variety of stories. Many directors try their hands at different genres through their career, but few ever walked into a genre for the first time with as much success as Hawks. Heck, the guy made one, only one, film noir, The Big Sleep, and it's one of the finest examples of the genre.
He was never a self-conscious artiste, simply forcing his way into the directing game in the mid-20s to tell stories that interested him, often about men in dangerous professions and the women who loved them. That thematic throughline is as consistent as the ideas of identity through Scorsese's body of work or the conflict within the heart of Fellini's characters. He only really developed recognition as a serious filmmaker in the 50s when Cahiers du Cinema elevated him along with Hitchcock as premiere American examples of the auteur.
Anyway, aside from a handful of films from his early period that are either lost or incomplete, below is the list of all of his work in order from best to worst. And no, I didn't include The Thing from Another World. There are solid arguments that Hawks had a larger hand in its construction than Nyby, but I still lead towards it being Nyby's work.
As always, make sure to check out my other Definitive Rankings to soak in all the definitiveness.
36. Red Line 7000
"The end result is easily Hawks' worst film. It's very much of a piece with his body of work dealing with a dangerous profession, the men who love it, and the women who love them, but this is also the worst presentation of the ideas in his body of work. Thankfully, he never sank this low again."
35. A Song is Born
"I was really ready to actually think more of this than Ball of Fire after about forty-five minutes, but then the half-hearted love story took center stage and I grew progressively disengaged from the film until it finally ended."
34. Fazil
"Is it also pretty much completely forgettable? Yeah. I imagine that this will be the one film that I'll forget the first from Hawks' early body of work."
33. The Crowd Roars
"I think what this movie really needed was more time. I wouldn't want to sacrifice either of the two storylines because they're both filled with potential, especially when you consider Cagney's strong performance as Joe and Dvorak's performance as Lee. This is the start of a quality movie, but as it is, everything ends up feeling too thin to carry anything other than some basic racing thrills."
"It has all of the pieces you would expect, but there comes a certain point where it begins to feel like we're just jumping from bullet point to bullet point in a story, rather than experiencing a huge narrative on display."
31. Air Force
"It's an unfortunate ending to what had been a pretty solid film."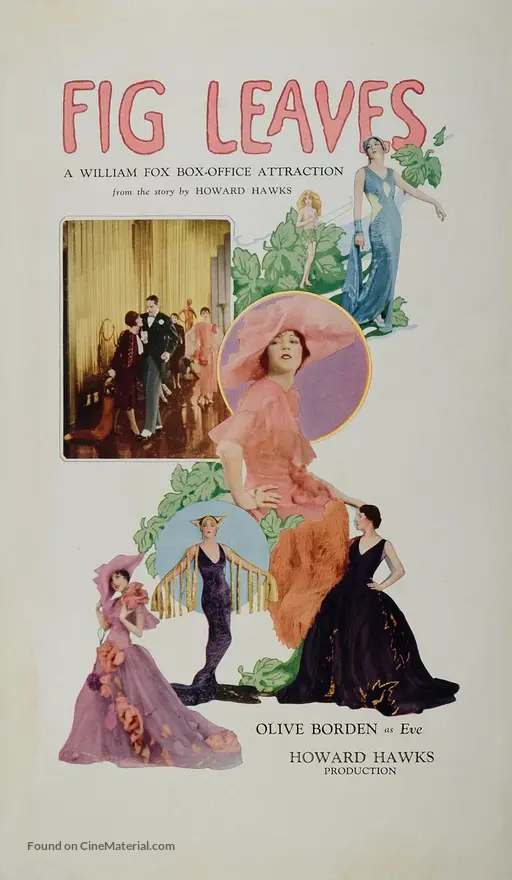 30. Fig Leaves
"This is broad silent comedy undercut by its inability to draw characters specific enough to carry the dramatic moments. It's a decent way to spend 70 minutes, but I have a feeling that Howard Hawks is going to be reaching far greater heights in his future."
29. Rio Lobo
"Hawks' compromises and easy out work against the story, though, to the point that I couldn't quite recommend the film. Better to watch the two other versions of the story. They're both better."
28. The Big Sky
"It's a somewhat frustrating little film that could have used another couple of drafts at the script stage."
27. Barbary Coast
"Ultimately, though, I find the movie a bit unsatisfying. A combination of softening the harder edges too much along with a thin third of a romantic triangle, Barbary Coast doesn't have the emotional investment necessary to carry through to the end."
"And that's unfortunate. The movie that precedes that ending is the work of something perhaps special, definitely solid. The ending kind of ruins it, but only kind of."
25. Tiger Shark
"Still, as a simple tale of a love triangle involving two professional friends, it's solid. As a look at an unusual and tough industry, it's fascinating. It's a little movie in Howard Hawks' career that's been pretty much forgotten entirely, but it's worth checking out."
"It's a fairly broad comedy done well, mostly in its final half hour. The first two thirds could have been trimmed a bit to speed up the slower parts a bit, but otherwise I Was a Male War Bride was an amusing little diversion, a minor success in Hawks' career."
23. Paid to Love
"The whole film is really endearing, if completely unchallenging. I find no fault with it being unchallenging, but it's certainly a good silent comedy, a step up from the less successful Fig Leaves. This is a confident little comedy with strong appeal more than 90 years after it was made."
22. Ball of Fire
"The resolution is exactly what you would expect from this kind of movie where true love is in question. It's easy and nice, helped wonderfully by the chemistry between the two leads and the crisp direction from Hawks. I can see why it was such a crowd pleaser in its day."
21. Ceiling Zero
"It's a solidly good little drama, anchored by a very good performance by Cagney, but still open for a more streamlined script that took advantage of some of its more tangential ideas more. Still, it's a good little film in Hawks' very busy 1936."
"It's quite well done, perhaps leaning a bit more dramatically than it should at times but never far from an easy effort at a smile from the audience. A Girl in Every Port is an entertaining little gem of a find from early in Hawks' career."
19. Monkey Business
"Sure, Hawks' heart might not have been in it, but he knew enough of what he was doing to get the right pieces into the right places. Grant and Rogers are wonderful both alone and together, bringing wonderfully physical performances to their characters."
18. El Dorado
"Instead, with more moving parts including a far more detailed introduction to the overall conflict, El Dorado has less time to cover more ground. It's still an entertaining little tale of good versus evil, but I don't get as invested with it as I know I could have."
"Perhaps this kind of movie didn't really need the two dramatic subplots to help it along at all. I don't think they actively hurt the film, but they don't add all that much either. Between them, though, is a tense tale of life at the front lines of World War I, and it's kind of great."
"It's not Hawks' best comedy by a longshot, but it is an entertaining little gem of a find from the later stages of his career. As much a throwback as a work of its time, Man's Favorite Sport? is a fine little comedy."
"It's an entertaining fantasy with very nice musical numbers and winning performances all over the place. It's a small delight."
14. Come and Get It
"This quiet acceptance of his age, his position that he chose, and the life he's lived is handled with tact, providing an emotional denouement around Barney that's surprisingly effective."
13. Sergeant York
"Hawks was a well-practiced directorial hand by 1941, and he brings a quiet professionalism to every aspect of the production. He had an innate understanding of how to frame a shot, when to use wide, medium, and close up shots to enhance emotional delivery, never using close ups inappropriately. He was also very good with his actors, pulling great performances from everyone."
"This movie is mainly remembered for the steamy romance that developed between Bogart and Bacall, becoming some kind of Hollywood legend almost, but that's the least interesting part of the film to me. That is spends so much time dealing with their obvious chemistry, I think, ends up being a small flaw to the film. The rest of the movie around it is entertaining and a very good wartime thriller that almost feels behind the times being released in 1944, three years after America had gotten directly involved in the fight against Naziism."
11. Hatari!
"He wants to document the lives of men he admires, living dangerously and getting beautiful women, and Hatari! is possibly the most complete iteration of that idea, made all the more potent by the proximity of the actual actors to the actual profession."
"Twentieth Century turns into a madcap event of a screwball comedy by the end, creating an almost exhausting but consistently amusing film that gave me a stupid little grin from beginning to end."
"I do not understand the negative appraisal of Today We Live. This is a wonderful film that may be missing some early elements to give it full emotional connection, but the rest of the movie is a surprisingly sober and quietly told story of love in a time of war. It's about men competing over a woman in one of the most dangerous spheres of war humanity as ever seen. It's really well acted, looks great, is well written, and directed pretty much perfectly by Hawks, managing to balance a delicate tone that holds everything together."
8. Scarface
"Scarface became famous because of controversy, but it has stood the test of time because of the strong script by Ben Hecht, the strong performances from the cast, and the confident direction of Howard Hawks."
"This movie is fast and entertaining from beginning to end, but it has a surprising amount of pathos to it centered on Earl Williams. That our main characters are completely unconcerned with him as anything other than a story gives them a nasty veneer that the fast nature of the movie largely glosses over, creating a subtext that adds an interesting layer to the action. On the surface, it's a fast, entertaining bit of newspaper business, but just underneath it's more savage. That, I think, is what really helps this version rise to greatness."
6. Rio Bravo
"He makes a statement about heroism from one of cinema's most defining heroic personalities, countering a film he considered unbelievable (Cooper walked out of Rio Bravo apparently thinking the same thing of Hawks' film), and making a great film overall. This is just good old-fashioned movie making."
"This movie grew on me and grew on me continually as it progressed. By the end, I was completely engaged with everything going on, and when the German pilot (von Richter, a different pilot from the one captured) flies over the RAF outpost and drops a small ode to his British counterpart, it feels completely genuine and fulfilling."
"This is really just primo entertainment from a group of extremely talented people. This is kind of an idealized example of film noir, anchored by a wonderful performance from Bogart and confidently and deftly directly by Hawks."
"They work wonderfully together, apparently loving the process of making the movie so much that they showed up early to the set everyday to figure out new comedic business to try and get into the movie. Hawks manages the chaos with a subtle hand that never takes the focus off of the characters as their situations become more and more insane. It's delightful and tense and hilarious."
"This combines with The Dawn Patrol as his two best movies about that life, the former from the military perspective and the latter from the civilian perspective twenty years later. Wonderfully acted, especially from Grant, Barthelmess, and Mitchell, Hawks' Only Angels Have Wings is a great little picture about daring men and how they treat with death on a daily basis."
1. Red River
"What the movie ultimately is about is the passing of one generation into another. Dunson is the man who built the ranch and got the herd moving, but it has to be the son who finishes it. The ownership of the future passes from one generation to the other. Matthew has to form a new path from Dunson to keep everything moving, and even if Dunson doesn't like it, that's the direction that's going to happen."